General MacArthur's statue in the Whitney Museum stood nearly eight feet tall, his knuckles resting confidently on his hips. His eyes looked sharp, as if he were inspecting you rather than you gazing at him. The larger-than-life statue was a reminder that this man had once wielded uncommon power. With a wave of his hand, he decided the fate of thousands of American soldiers and millions of Koreans during the Korean War.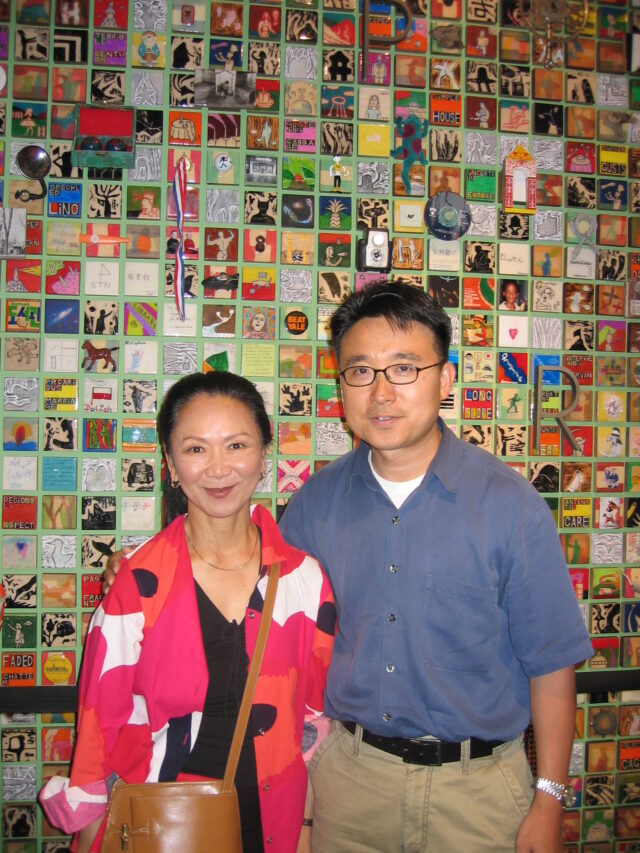 Memories of American soldiers who served under him hung on the walls, hundreds of small, rectangular blocks bearing the stripes of uniform badges. The dark brown sculpture material added to a mood of solemn silence. Too many soldiers died in what's called the "forgotten war". This artistic memorial to the Korean War was long overdue.
When I looked closer at the general's elbow, there was a sweet, yet pungent, smell. It was coming from his cuff, his jacket, and the walls. It was the brown stuff of children's dreams and Christmas cheer, none other than the wonderful smell of dark chocolate. For many Korean children who were starving during the war, it was also the scent of America.
The brilliant artist, Kang Ik-Joong, justified his reason for choosing chocolate as the material for his monument. As he explains it, some of his clearest childhood memories were of good-willed American soldiers throwing chocolate bars to children. The soldiers shared some of the most exotic goods imaginable. The children's favorite was gum because its flavor lasted forever. Candy went down quicker. Many children hoarded gum and candy wrappers for weeks, smelling them over and over again to relive that satisfying moment.
It is ironic that candy and gum should be the enduring memories of starvation. However, when one is very hungry, the first taste of anything is wonderful and unforgettable. Taste is a conduit to childhood memories. Sadly, for today's children in war-torn countries, like Afghanistan, Somalia and Rwanda, these memories may best be forgotten.
According to UNICEF annual report in 2016, there were 25 million children displaced due to conflict. Two years later, that number increased to an estimated 30 million children. In the past decade, nearly two million children have been killed in wars, many of whom died of diseases related to malnutrition and a lack of safe water and sanitation. Their own armies have sold international relief goods for arms while children have waited for food aid that never arrived due to embargoes.
At the annual UN High-level Political Forum, heads of state and ministers report on how their countries progress toward achieving sustainable development goals. While food security, nutrition, and health are central to measuring whether or not these are successful, few governments report on how wars are undermining progress. Unless we invest more in forging peace, refugees will feel that the meetings produce more sweet talk than action.