Plato longed for a philosopher-ruler who would use knowledge and wisdom to create an ideal society, but he would have been astounded that a Malaysian woman of Dutch lineage would aspire to be such a leader. Noeleen Heyzer, director of the United Nations Development Fund for Women (UNIFEM, now UN Women), has high standards that would suit his ideal type, and she planned to make sure the UN had them too.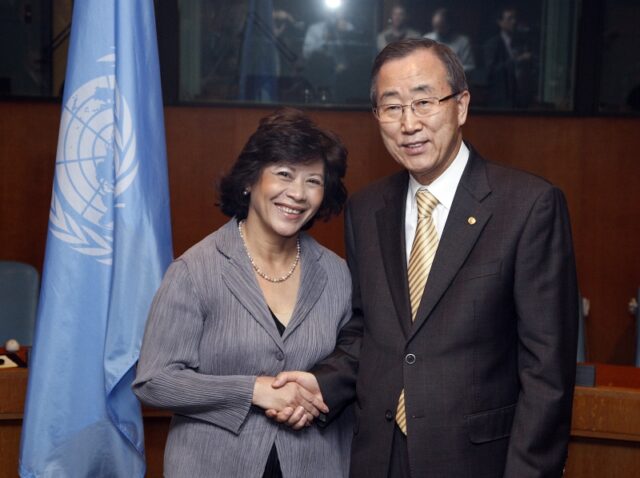 When I first met Heyzer, she was a postgraduate fellow at the Institute for Development Studies in Sussex, England. Between classes, we exchanged ideas about working motherhood, women's welfare, and research. I asked daily about her twins, who were dropped off at the school daycare center. Even then, she would break into her trademark smile at the oddest moments, just like when she spoke about how difficult the pregnancy had been. I quickly guessed her secret to survival: when disaster strikes, find the silver linings and turn them into shining armor.
Here is her story. She was born in a remote Malay village during the British colonial era, and her mother died when she was only six. Her grandmother had to raise her in one of the poorest areas of Singapore. Most of her childhood neighbors were poverty-stricken and marginalized. She learned of other children's misfortunes from her aunt, who ran a Catholic orphanage. It was a haven for children born just before the Year of the Tiger started. They were abandoned because their families believed that such children would eat the parents.
Heyzer said that living among such unfortunate people was a good experience because she grew up exposed to different class and ethnic situations. Fortunately, she was also enrolled at an elite school for diplomats' children. Although she attended several different Catholic schools, the teachers were mostly foreign men who were dedicated to creating a new generation of women leaders for an independent Singapore. In the 1960s, when Singapore gained its formal independence, she was in secondary school, getting more than her share of intellectual molding in philosophy, humanities, and political thought.
As challenging as her life had been, Heyzer did not feel that fate had given her a raw deal. That would betray a lack of faith in human destiny—something she would never admit. When asked about her experiences with French Jesuit priests, she said, "The one thing I learned in secondary school was that a leader doesn't mean that you snatch power. Leadership at the end of the day is service. That also means you have the capacity to do extraordinary things well. You don't grab power. It is given to you." A star pupil, she probably found that when she proved she could get things done, others followed.
While a university student, Heyzer wanted to know more about how ordinary workers lived. After graduating, she took a job as a textile worker—an experience that changed how she looked at her own leadership role. She had been tutored to believe that great leaders did not dabble in women's issues, but rather with the important ones like international relations and public policy. During her factory days, she did not question the validity of such notions. As the international secretary of the Democratic Socialist Club, she traveled abroad and mingled with the European intellectual elite, discussing the future of Asian geopolitics and economic development. However, the experience of working with factory girls moved her so much that she learned to see the world through their eyes and remodeled her own life accordingly to champion women's causes.
Her first high-paying job was in a bank, but that interest faded as quickly as the clink of a cash register. When she returned to graduate school at Cambridge, her desire to study propelled her into gender studies, economic development, and international relations. After several years working in the Social Development division of the Economic and Social Commission for Asia and Pacific in Thailand, she joined UNIFEM. She found the office in the midst of crisis. With sheer determination, she took the opportunity to reorganize its programs. In typical, efficient fashion, she removed bureaucratic cliques, heroically redesigned the budget, and streamlined the organization.
Heyzer would like to see her efforts at the UN contribute to the elimination all forms of violence—physical, mental, economic and military—against women. She felt that violence against women was the major impediment to all future development. That theme resonated years later in the sustainable development goals and remains true to this day.