During a recent visit to Botswana, a friend invited me to participate in the funeral rites of her cousin. Abandoned by a husband who had abused her for most of her life, the deceased woman had raised five children alone.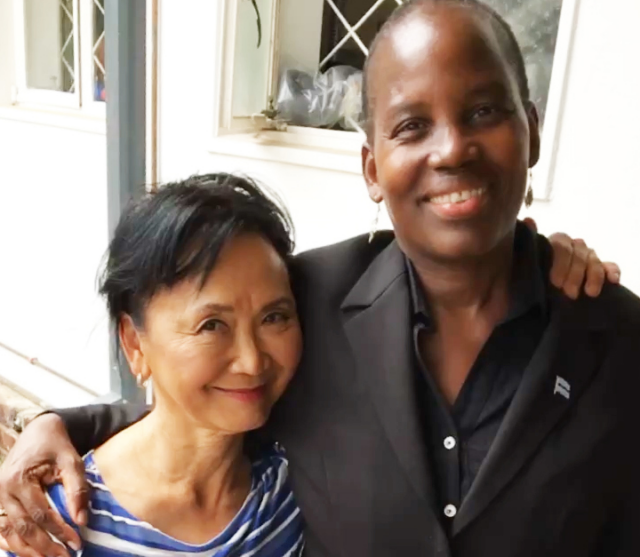 We arrived at the mortuary where her children were waiting. The nearest of kin went inside to fetch the body. In accordance with tradition, the deceased woman's maternal uncle acted as the head of the family and took charge of the rituals. During the ceremony, he didn't mention that she had died from AIDS, but everyone knew that some of the children might also be infected. If so, their only hope would be the government's new program to give antiretroviral drugs to everyone with HIV/AIDS.
However, a funeral was not an appropriate occasion to talk about AIDS. It was time for kinsmen to send her joyfully into the next world and for the ancestors to welcome the woman into their realm. I joined in the feasting. A teenager with beautiful round eyes and a warm voice was seated next to me. She adjusted her scarf just enough to reveal severe burn marks on the right side of her face.
"A group of hoodlums threw her on a barbeque pit," a woman explained. The girl nodded, showing me the dark grill marks on her right arm, thigh, and leg.
"I don't know why they did this to me, except that I talked back to them when they were rude," the girl said. Other women shared their horror stories. Some women never felt safe, no matter the time or place. Violence was a constant threat behind sexual coercion. Girls contracted AIDS because they were powerless to defend themselves against older men who believed in the superstition that virgins could cure them.
Not so long ago, one third of Botswana's females ages 15 to 24 were infected with HIV/AIDS. Although rates have declined, violence associated with alcohol abuse remains a social problem of epidemic proportions.
This isn't a scenario that unfolds only in Africa. Violence against women and girls is a global phenomenon. It is a societal pathology that takes a variety of malevolent and deadly forms in many cultures across many classes. It is the most prevalent violation of women's human rights globally and a major reason women and girls do not feel safe at home or in the streets. In the United States, there is a strong link between intimate partner violence and HIV. For example, women in relationships with violence have four times the risk for contracting sexually transmitted diseases than women in relationships without violence.
Gender-based violence is also an urgent economic and social development issue. According to the World Health Organization report in 2019, domestic violence and rape rank higher than cancer, motor vehicle accidents, war, and malaria in the global estimates of risk factors for women. Domestic and sexual violence and the associated costs in the United Kingdom alone costs the country £5.7 billion per year. In the United States, the health care cost of intimate partner rape, physical assault, and stalking totals $5.8 billion each year, nearly $4.1 billion of which is for direct medical and mental health care services. Lost productivity from paid work and household chores and lifetime earnings lost by homicide victims totals nearly $1.8 billion.[1]
What is the UN doing about this? The UN Secretary General, supported by UN Women, has taken the lead, engaging men and boy to end violence against women and combat gender-based violence. At the UN Commission on the Status of Women meeting in 2013, hundreds of NGOs gathered together to prevent and end violence against women and girls. In its Agreed Conclusions (a consensus document that provides policy guidance for the UN and governments), the Commission strongly condemns violence against women and girls and notes the important role that men and boys can have in prevention.
I plan to return to Botswana very soon to catch up on some good news. I heard that the Harvard AIDS Initiative is working closely with the government to combat date rape and other forms of violence against women and girls as part of their HIV/AIDS prevention program. Let us hope that combined effort between social reform and health can make a difference.
[1] Costs of Intimate Partner Violence against Women in the United States, United States Department of Health and Human Services, 2003.