If you don't know what CSW stands for, you can join 95 percent of the world's women. I first learned of the UN CSW in 1980, when I worked with the UN Secretariat for the second UN World Conference on Women. I was a novice in the Secretariat and had to catch up on endless UN acronyms. To the outside world, CSW could stand for almost anything. Combat Submission Wrestling or Certified Specialist of Wine came to mind.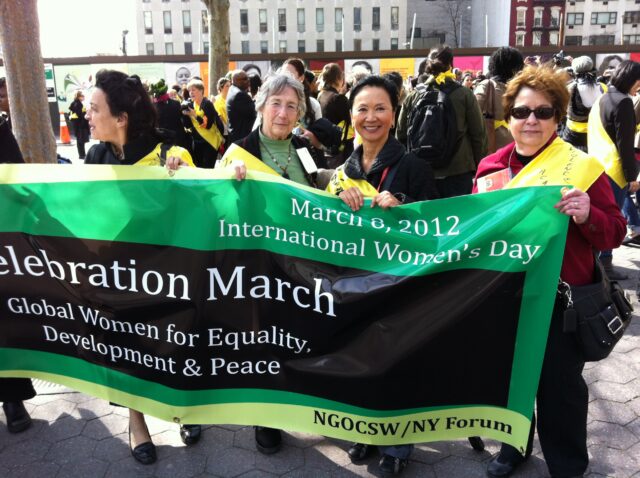 I soon learned that CSW stood for the Commission on the Status of Women. The CSW was founded in 1946, only one year after the UN's creation, and is the oldest of six UN commissions. It was created to promote the principle of equal rights for men and women. Specifically, it oversees the progress of legally binding treaties, such as the Convention on the Elimination of All Forms of Discrimination against Women (CEDAW), and works with UN Women, the main UN body responsible for implementing programs for gender equality and women's empowerment.
At a high level, the CSW is meant to be a catalyst to ensure that the UN and world governments live up to their promises to women for equality, development, and peace. It has to do a review and assessment of progress in implementation of the Beijing Platform for Action, including the all-important albeit unglamorous provision on institutional mechanisms for the advancement of women, including all of the ministries of gender and women's affairs.
That's a tall order. However, the CSW has never shied away from the challenges of responding to the international women's movement's demands for change while upholding intergovernmental and UN rules. The legacy of the CSW goes back to the international women's movement and human rights movements in the 1930s that eventually led to the UN's founding in 1945. The CSW steered the process for the UN world women's conferences in Mexico (1975), Copenhagen (1980), Nairobi (1990), and Beijing (1995).
Innovation has to come from somewhere within the UN. I believe the CSW is a shining example of how to build a strong international organization that ensures that governments, social movements, and the UN come together to defend women's human rights. However, the CSW will simply rehash old ideas if we don't take the responsibility to set it on the right course. The annual CSW meeting is an excellent opportunity to make sure that creative ideas flourish. NGOs gathered at that event will have a chance to speak out on how the UN's sustainable development goals on peace and security, climate change, and science and technology can support gender equality and women's empowerment.
What can you contribute to the CSW session next year?